NEWS RELEASE                        Press Contact:  Tom Cockley

New Product News from Gulden Ophthalmics
       Press Contact:  Tom Cockley
Gulden Introduces Fixi-Tic
For Timed Facility Testing
New Fixi-Tichelps eye care professionals greatly improves the accuracy of test results
ELKINS PARK, PA   Gulden Ophthalmics has introduced a new product the Fixi-Tic, the Fixation Stick Timer.
When evaluating accommodation and binocular vision, optometrists measure the amplitude and the response facility.  Amplitude testing provides information about how much accommodation and vergence are available and facility testing provides information about the speed of the response and ability to sustain the response over an extended period of time.  Accommodation and vergence facility testing are important for diagnosis and these tests also allow the optometrists to follow the progress of the patient after treatment.
Accommodation and vergence facility testing have traditionally been performed by repetitively alternating lenses or prisms in front of a patient's eye and asking the patient to report when they achieve single, clear vision of a vertical bar of characters on a fixation target.  The number of responses that occur in one minute are counted.
Before development of the Fixi-Tic, facility testing was challenging for clinicians. The clinician must hold the fixation target, move the vergence facility prism or accommodative flippers, count the number of responses, and also time the test while observing the patient's eyes.   With one hand holding the target, one holding the prism or flippers, and the clinician's attention focused on the patient, the challenge is to accurately time the test (1 minute) without the aid of another person.  Enter the Fixi-Tic.  The Fixi- Tic is a timer that slides onto the fixation stick.  It is easy to use, ergonomically designed, and it beeps once a minute of time has expired.  By holding the fixation stick and providing timing functionality for the clinician, the Fixi- Tic greatly improves the accuracy of results for this test.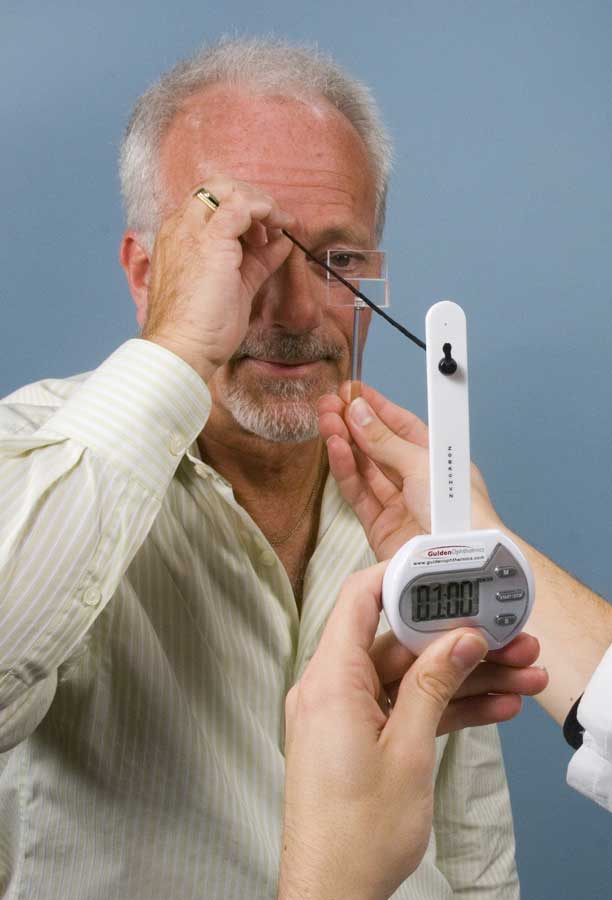 Gulden Introduces NEW  Fixi-Tic For Timed Facility Testing
helps eye care professionals greatly improves the accuracy of test results
Gulden Ophthalmics: 225 Cadwalader Avenue, Elkins Park, PA 19027-2020
Tel 215-884-8105   Fax 215-884-0418
www.guldenophthalmics.com  •   @GuldenEye on Twitter  •   info@guldenophthalmics.com