Did you know that Gulden Ophthalmics was founded by the inventor of the prism bar in 1938?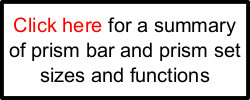 This means that when you choose a Gulden prism bar, you are selecting a product with a proven track record. For over 75 years the same company has continued to produce-and perfect-its acrylic prisms and prism bars.
Gulden's prisms and prism bars are custom machined and hand polished for a crystal-clear optical finish. Made of durable PMMA (acrylic), they are sure to last a lifetime. However, if they become scratched or worn over time, Gulden offers prism bar and set re-polishing services. We are able to make your old, trusted prisms and prism bars look like new!
In addition to standard prism bars, loose prisms, and prism sets, Gulden also manufactures combination horizontal/vertical prism bars, magnetic stick prisms, and vergence facility prisms. Please scroll to the bottom of this page to view all Gulden's products and their prices.
Gulden's latest innovation, the EZ View Prism Bar, solves a problem common to all ophthalmic practitioners. When examining a patient, it is necessary to know which diopter prism is currently held in front of the eye. Before EZ View, this required turning and looking at the side engraving on the bar for the diopter number. Over time, these wasted seconds can add up to significant monetary loss for a practice. EZ View solves this problem. With the diopter numbers engraved in the plane of the prism, rather than on the side, the practitioner does not have to change positions to view the number. Watch the product video for the EZ View Prism Bar: