NEWS RELEASE                        Press Contact:  Tom Cockley

New Product News from Gulden Ophthalmics
Gulden Introduces the Rowe OCT Model Eye
The OCT Model Eye is ideal for OCT instruction, training, practice, testing and calibration of instruments, and serves as a
"phantom standard eye" for Spectral Domain Optical Coherence Tomography
ELKINS PARK, PA   Gulden Ophthalmics has added the Rowe OCT Model Eye to its extensive array of well-designed, practical eye models.  This solid-state tissue phantom is easy and simple to use by simply clamping it to an instrument and initiating an OCT test.  It eliminates the need to use staff members or patients to check, practice, and use OCT equipment.  Because it produces a standard test result based on a normal macula it provides a stabile, long-term benchmark for OCT instruments.
The OCT Model Eye is ideal for system demonstrations and tests; staff education, instruction, and practice; OCT instrument research and development; and as a standard for multi-instrument DME trials at several sites.  Eye care OCT technicians and operators benefit and obtain better results through practice;  by eliminating the need for a human subject, the OCT Model Eye improves and expedites OCT practice.
The OCT Model Eye features a realistic, six-layer retina 300um thick, 4.8mm in diameter; a 120um deep foveal pit; photoreceptor inner segment (IS)/outer segment (OS)/retinal pigment epithelium (RPE) layer with choroidal transition.  It is fluid free and easy to image with a large 12.6mm cornea and 8mm diameter pupil and is 23.5mm in axial length.  Images using the OCT Model Eye exhibit clear layer structure, foveal pit, and IS/OS/RPE layer.
OCT instruments provide the eye care professional with high-resolution images of the different layers of the macula, providing a crucial tool in detecting and managing a wide range of retinal diseases.  OCT assists in monitoring responses to treatment and aids in decision making regarding short- and long-term treatment.  With the OCT Model Eye, technicians can gain and maintain the skill set to produce quality images and practitioners can practice their measurement and analysis skills.  Studies show that well-trained ophthalmic technicians produce better, consistent measurements.
The OCT Model Eye is also ideal in assisting equipment developers and manufacturers create and improve equipment without requiring extensive human subjects. The OCT Model Eye also advances the development and calibration of automatic layer segmentation software due to its known retinal layer dimensions. It is also ideal for demonstrating OCT functionality and images and simplifies comparison of instruments' features and functionality at, for example, trade shows and conferences.
The OCT Model Eye is provided and stored in a wooden case with instructions, an attachment rod for mounting on an ophthalmic instrument chin rest, and a mounting clamp.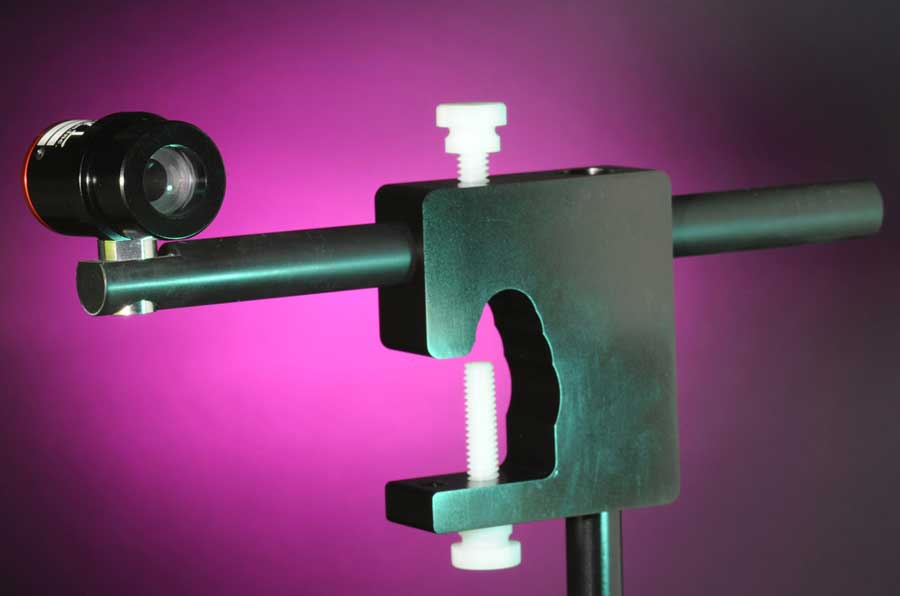 The OCT Model Eye, a solid-state tissue phantom for retinal OCT, simply clamps onto an instrument chin rest and provides a
standard, normal macula for OCT demonstration, education, practice, and testing.
For more information about the OCT Model Eye, Gulden's wide range of other eye models, ophthalmic and surgical diagnostic aids and tools, and more visit Gulden's website or contact:
Gulden Ophthalmics
225 Cadwalader Avenue
Elkins Park, PA 19027-2020
Tel 215-884-8105   Fax 215-884-0418
www.guldenophthalmics.com     email: info@guldenophthalmics.com
###